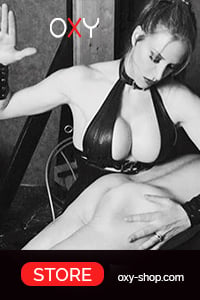 Birthday: - 28/07/2029
Mistress Courtney lives in WOMANIA EMPIRE / OWK, WOMANIA EMPIRE / OWK
Her Website:
Her Sign of Zodiac: Leo
Miss Courtney
CHIEF WARDRESS OF THE OWK PRISON
REGIONAL COURT EXECUTRIX OF WOMANIA EMPIRE
LADY-CITIZEN OF WOMANIA EMPIRE

"Miss Courtney is not only sexily beautiful, but intelligent and witty too – she is one of a very few women that knows how to get inside your head. A+++"
My piercing, green eyes will capture your soul from the minute you enter My world. I am the ultimate, cruel, man-eating seductress and as a petite 5'1'' blonde I'm like a pocket rocket: small enough to fit in your pocket and hot enough to make you go off like a rocket. In all seriousness, I take great pride in my appearance: perfect hair, manicured nails, elegant make-up and the perfect outfit to make you fall instantly to My feet.
I grew up travelling around the world on a yacht. I am well travelled and have no distinct accent although I am known among certain people as 'posh'. I love mixing an elegant approach with a bit of filth!
Educated, articulate, and with a desire for perfection, I genuinely love what I do. I get a complete buzz out of being in control – there is no better way to spend the day then being worshipped and having men kneeling at My feet.
I was first captured by the BDSM world in London in 2012 – I was hosting the Erotica event with Spearmint Rhino and fell in love with the scene. Everything about it excited Me and all I wanted was to explore. So I did and since then I have had the opportunity to learn, grow and become the Domme I am today.
I have exceptionally high standards and expect My slaves to act accordingly – to be well-mannered, willing to learn and open to an exploration of their deepest darkest desires. I have an 'old-school' approach to Femdom – strict, severe but also with a laugh and smile that will make you weak at the knees. Not all My sessions include pain – although it is a favourite of mine! I adore converting you into a naughty girl or tying you up so tight you are unable to move and must submit to My touch and tease. Each of My sessions is different and entirely based around your limits. If I feel as though your desires are not something that excite Me or I am not able to provide you with an exceptional session, I will direct you to someone more suited to your requirements 🙂
---
A Wishlist Fit For A Mistress
Have a look through My main wishlist on Amazon where I have next-day delivery for most items. When I receive your gift you will get a personal photo of Me using or wearing the present. Thank you in advance 🙂
MISS COURTNEY – Amazon Wishlist
I love new equipment and toys so if you want to send a gift from Love Honey then click the link below. If you have a request for specific items for your session let Me know via email.
---
Please note: I am Vegan so no normal food items unfortunately!
As a very busy Mistress a SPA break is always appreciated. This is the link to My local SPA where you can purchse vouchers for Me to spend. My favourite treatment is to have a hot stone massage!
I love receiving Gift cards from:
Karen Millen, Selfridges, Charlotte Tilbury, Debenhams, H&M, Perfume Shop, Kurt Geiger, Chanel, House of Fraser and for those beautiful nylons: Wolford.
---
Want to use your own initiative? Arrive at a session, armed with a gift? Try these:
Clothes: I love Latex and PVC outfits: Size 6/8, small and petite, just how you like Me.
One of My favourite stores is Karen Millen. You can never go wrong here!
Flowers and Champagne: Lillies, white roses, pinck champgane – Bollinger is my favourite.
Perfumes: Chanel and Dior are My favourites. Some others: Ellie Saab, Ralph Lauren, Tom Ford
Handbags: All sizes and colours; designer bags are a special treat! For me, a Louis Vuitton handbag is a very special gift!
Shoes: Buy Me boots or heels to go on My size 3 feet (35.5 EU size). My favourite designer heels are Casadei, Christian Loubouton and Jimmy Choo. Some less expensive ideas? Pleaser, Aldo and Kurt Geiger.
Latex: Do you love to see me in latex? Send me a Westward Bound gift card via their website.