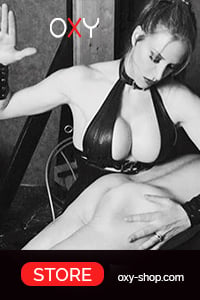 Birthday: - 05/02/2026
Her Website:
Her Sign of Zodiac: Aquarius
Mistress Katharina – about me:
I cannot be compared with a conventional studio dominatrix. I practice "pur SM" and "pure Pain" straight forward and honest. As my slave, the worst thing you can do is being useless. The attention of ownership is a privilege that must be earned. My slaves must regularly proof to be of value to me, in whatever ways I demand.
I truly believe in the concept of female supremacy and I pursue this lifestyle with natural ease 24/7. A few very well chosen slaves I consider as my property and these slaves also have the privilege to support me in my daily activities.
I am also a professional fitness instructor, with high standards for myself and a very disciplined lifestyle. I certainly demand high standards and discipline from my slaves who have made it into my private life. That is why I have named one of my clip stores the "Institute of Discipline".
I prefer submissive and / or masochistic beings who can appreciate, that in my world, you have no rights. I will respect your limits. However, if I notice an inner longing inside of you for more, I will also exceed these limits, and if necessary realign them. Courage and trust are rewarded with me. And the more you bring, the more intense your experience will be.
If you give the despot in me a free hand, then I will gladly let myself drift until the situation tilts and boundaries are only a question of fixation and my consequence.
Show respect when you enter her world. Learn to understand that you have no rights at all!
SPOIL MISTRESS KATHARINA – BECOME HER LOYAL SLAVE
Mistress Katharina is a real cruel and sadistic riding mistress.
She loves corporal punishment – Mistress Katahrina is
Regional Court Executrix GermanY
WOMANIA EMPIRE
SPOIL MISTRESS KATHARINA – SEND A GIFTFROM HER WISH LIST