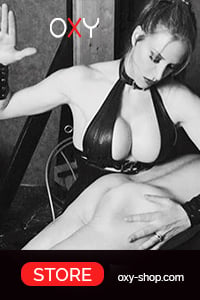 Birthday: - 26/03/2027
Her Website:
Her Sign of Zodiac: Aries
I am a Spanish professional Domina and I live in Madrid. 
I am passionate about each of the FemDom practices that you will find on My website, but do not forget that your fantasies can be carried out with the maximum obedience and discipline.
I do my sessions at the NoMercy Studio in Madrid with almost 200 meters, a discreet place where I will respect your limits, fully equipped with BDSM furniture, latex, leather and an infinite number of Boots and Heels.
I really enjoy doing INTERMINATIONS / CONFINEMENTS from a few hours to days. You will be part of My furniture, you can be caged, immobilized, isolated or imprisoned, you will eat what I give you and I will use you as I please until your eyes see the light again …
Of course I am attracted to servitude at all times whether in the dungeon or in My house, you will come only if I see you fit to clean My rooms, cook or fix My garden, you will be My maid and you will wash My clothes by hand dressed as My maid or My butler.
I have traveled through Europe and the USA putting into practice experiences and visiting dungeons learning from the best until I get to know the minds of the submissive.
Sessions in Dungeon / Studio, hotel or even in public (never at home)
* Make an appointment for dinner or lunch, go on a trip or attend Fetish events. I love to go shopping with you… You can visit the Wish List chosen by me. 
Thanks for your interest