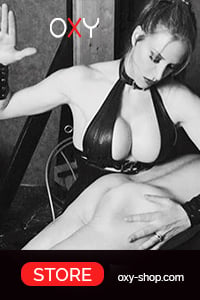 Birthday: - 25/02/2029
Her Website:
Her Sign of Zodiac: Pisces
I live the bizarre world of BDSM with a lot of passion and i feel attracted to it since my earliest youth. I am very open minded and tolerant. I like to play hard and bizarre. Due to my empathic nature, i also bring a lot of empathy with me. The closeness to my play partner is very important to me!
My way of dominance is not loud and not disrespectful. I lead with certainty and responsibility. I regard the devotion and obedience of my slave as a gladly received gift. Trust is the top priority for me so that my guest can completely let himself fall.
BDSM means a way of life for me. For me this is the highest form of eroticism, with the greatest closeness and greatest intensity. Both partners go in a mutual agreement on a varied game. I have always been fascinated by the versatility and the infinite variety of play options. I always love to immerse myself in a bizarre, depraved or even perverse world with my guest.
I'm looking forward to your message!