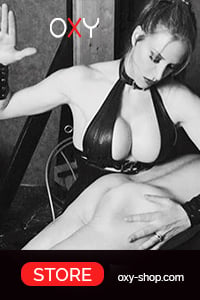 Birthday: - 03/06/2027
Her Website:
Her Sign of Zodiac: Gemini
PAIN | HUMILIATION | PLEASURE | SUBMISSION
New? Are you a beginner looking for answers? Or are you still looking for the Woman who matches your unique and very far-reaching kicks, kinks and/or fetishes?
I am (your) Owner, Hostess and Mistress of SM Studio Antwerpen. I have the experience, the means and the need to make a difference in your searching life.
Red stripes that make it almost impossible for you to sit on your office chair for days, those are mine. Or the tip of my boot that you lick and adore completely floor to floor, those are mine.
I must be worthy of your submission, just as much as you must deserve my approval. And I am worth it. Sometimes it takes a while, but almost always I get satisfied with you. I will take care of that.
Scroll down to my feet and see what gift you can give me for my birthday!