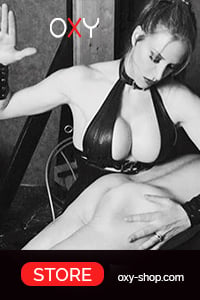 Birthday: - 26/09/2025
Her Website:
Her Sign of Zodiac: Libra
6ft1 Demoness 𖤐/ Matriarchy • Divine Feminine • Femdom / Unapologetically terrorizing / Owner of the @succubustemple / Follow @ArtbyDamazonia
My name draws its inspiration from the legendary Amazonia…
I am drawn towards the unusual, the extraordinary, the misunderstood, the deviant, the underground. I never been attracted to live a "normal" life. But normality is very subjective. As the magnificent Morticia Addams would say: "Normal is an illusion. What is normal for the spider is chaos for the fly"
Being a strong supporter of equity in a noticeably patriarchal society and a promoter of female empowerment, I decided to dedicate my career to represent FEMDOM (Female Domination) in order to inspire and lift up women and overthrow patriarchy by bringing men to the marvellous world of submission. Female supremacy rules my dungeon and tone my power dynamics. This exemplary situation highly pleases me erotically and I'm delighted to see more and more men surrendering to Female power.
Of course, all genders are welcome to surrender and submit; My dungeon is a safe space: discrimination is not tolerated and inclusion is inherent to BDSM. As a professional Dominatrix, I am constantly evolving to become the best version of myself and I now can say with confidence that I reached multiple personal achievements in my career and I am now on the path of education of aspiring Dommes. The journey is not over; I still absolutely love what I do and I am grateful everyday for all my fans, supporters, devotees and friends I found in this amazing community.
I LOVE to be spoiled with gifts; It's simply the best way to get my attention and show your dedication and appreciation to your Mistress.
Here is my Amazon wish list: http://a.co/8zsudvx
I also accept gift cards from :
Mister S Leather for a lot of kinky toys and leather goods https://www.mr-s-leather.com/mr-s-leather-gift-card
Etsy for some unique jewelry and accessories https://www.etsy.com/giftcards
Hotels to sponsor my numerous travels https://hotels-m.cashstar.com/buy/?locale=en_ca&skipredirect=1
Cards are to be sent to my email address : mistressdamazonia@gmail.com